Cheech & Chong's Up in Smoke Tour
---
Up in Smoke Grand Prairie Review
High times were happening in Grand Prairie, Texas on June 1 when Cheech & Chong, War and Tower of Power set the Verizon Theatre ablaze at the 2013 Up In Smoke Tour stop. Cheech & Chong provided some laughs to kick off the show, then the horn-heavy Tower of Power turned up the funk and got the crowd dancing to their hits, "Don't Change Horses," "What Is Hip" and "You're Still a Young Man." Cheech & Chong came out to finish TOP's set, performing an island-sounding version of "Basketball Jones" and a James Brown inspired number that had Cheech singing about saving the whales.
Between bands the stoner comedy duo brought back to life a few of the best-known characters from their early '70s albums. Dick jokes dominated the stand-up portion of the show, as Chong's character Hairy Palms joked about how he plays with his. Chong's wife Shelby did a raunchy bit about her husband's own man parts. She also informed the crowd that a new Cheech & Chong movie was in the works, then brought back the pair who reenacted the opening car scene from Up In Smoke.
Next, War performed a hit list of songs that included extended renditions of "Spill The Wine" and "Cisco Kid." TOP's horn section joined them on "Low Rider. Just when the audience thought it couldn't get any better, out came blues legend Blind Lemon Chitlin (Chong) to jam with War guitarist Stuart Ziff, followed by Alice Bowie (Cheech), who raced on stage to play his raging proto-metal rocker "Earache My Eye." Cheech & Chong also had War help them out on "Mexican American" and on "Born In East L.A.," as Chong and his wife danced to a salsa beat.
Towards the end of the show Chong put the spotlight on harmonica player Stanley Behrens, who delivered a terrific instrumental version of "The Star Spangled Banner." Throughout War's set lead singer Lonnie Jordan constantly referenced marijuana. The three-and-a-half hour show ended on a high note as War performed "Why Can't We Be Friends" with TOP, Cheech and the Chongs all on stage, putting a nice finishing touch on a fulfilling evening of music and comedy.
Afterwards, Marin told me he recently shot a pilot for TBS and Chong educated my wife about the healing powers of hemp oil. Chong, who recently announced that he beat prostate cancer, also let me know he's working on opening up a seed company. Cheech & Chong are the ultimate masters of stoner comedy. Their routines felt fresh and the musical acts were the perfect choice to bring along for the ride.
---
  Cheech & Chong's Holiday Party
December 31st, 2013 at Chicago Theater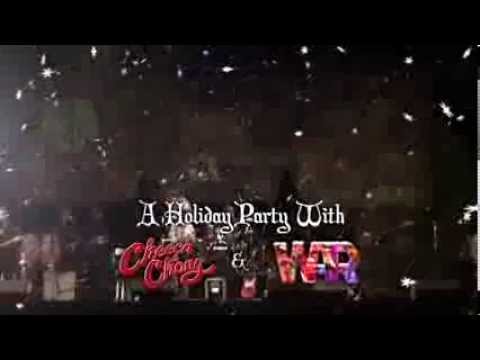 ---
Concert Reviews
WAR, Cheech & Chong and Tower of Power | May 25, 2013 | Greek Theatre | Los Angeles, CA – Concert Review + Photo Gallery
Cheech & Chong / The Family Stone / WAR | May 24, 2014 | Greek Theatre | Los Angeles, CA – Concert Review